Click on any picture for an enlarged version

1995 Nissan 200/240SX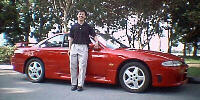 Singapore, 1999. As he tells it, "I'm now sitting on 220 bhp driving the rear wheels, and it'd be hard to go back to anything less ...". We're not worthy...

See how much rubber Tommy can lay down with a turbo?
He let me drive his car when I was over there, and let me tell ya, I wouldn't mind having a turbo in my car. I didn't push his around around, though. You know, insurance, foreign driver's license...
Photos copyright Thompson Wong.

1990 Nissan 240SX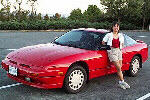 Queen Elizabeth Park, Vancouver, 1999. It's a red 240SX hatchback with Sport Package. No ABS, no A/C.

Hey, like my car?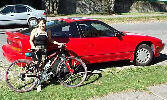 And she has a 1999 Trek aluminum bike too!
Photos copyright Michael Ng.

1993 Nissan 240SX
Click here to see Mike's 1993 240SX page (unfortunately, he's not in any of the pics there).