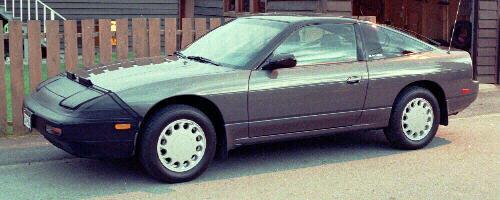 This has been an amazing car, with few major problems after 140,000 km. Oh what fun it is to throw around! Top engine revs are non-existent, but sharp cornering exercises are plain fun, with no surprises at all. Pedals are perfect, the steering wheel is a joy to use, the shifter is great (except for the usual Nissan hesitation to shift into reverse when cold) and even the odd-looking seats work well. Speed limiter consistently kicks in at 170km/h or 105mph. Good thing too, since I only use H rated rubber. The pop-up sunroof leaks a lot of air at those speeds!
Options and Accessories
| | |
| --- | --- |
| | Added K&N intake filter to replace the original paper one. I couldn't tell any difference in performance, but compared to running paper filters, this catches a lot more dust and oil. |
| | Added Bosch driving lamps in nose scoop area, similar to daytime running lights on '90-'92 models. They were mounted using a pair of small custom galvanized steel brackets I made myself. |
| | The nose mask (bra) has been superb at keeping the radiator clean, but I only use it for long-distance trips in insect-rich territory. I'm still amazed at how well it fits, even though I had to add two straps to the bottom to keep a long part of the mask from deforming and being pushed into the air scoop. |
| | Some buddies installed a premium Sonar security alarm that provides for keyless door locks. I've even programmed it for passive arming, in addition to adding an automatic window closer module. |
| | After 8 years, the cassette player was slowly blowing its output amps, so I replaced it with a Blaupunkt CD deck from Crutchfield. Other than that, nothing was done to the stereo system. |
| | The roof rack is an original SportRack. I accumulated most of the usual adaptors: upright bike mount, hammerhead bike mount, ski mount, and watersports mount. The upright bike mount is not very secure, so I now have use hammerhead mounts exclusively. Because of the close proximity of the bars on the roof, I've had to modify the hammerhead mount to move it forward of the front rack instead of behind it. This provides a very solid installation despite the short "barbase". Securing the sailboard can be tricky because the straps tend to flutter at speed, and the front straps are required to hold the board in place at highway speeds. |
| | Now on the third set of summer tires. Original Potenza RE88 tires were great. Replacement Dunlop D60M2s were somewhat disappointing for dry grip, but had better wear. New set of Yoko AVID H4 are a big disappointment for grip (wet or dry), but make a helluva touring tire (softer and tracks very well on the highway). |
| | Winter tires: Used a pair of Yoko A633 "performance" snow tires on steel rims for 6 winters, and bumped the Yokos off the rear wheels last winter with a pair of Toyo "studless" tires, also on steel rims. What a combo! I won't mix summer/winter tires again. With snow tires and chains on the rear wheels, it's a reliable ski machine (sorry, no pics because the camera lens usually gets steamed up or the visibility and/or lighting is otherwise inadequate). |
Maintenance and Defect History
| | |
| --- | --- |
| | During the first year, the fuel gauge uncalibrated itself. It always reads low, and the fuel warning lamp never turns on. It could be related to a small rear-ender I got at that time. |
| | As typical with non-stainless exhausts, this one went after 5 years. I had to reuse the original exhaust tips, though, but they needed a screw to hold each one in place (the originals were press-fit. |
| | The left run signal occasionally ran fast, indicating a burned-out lamp, but it wasn't the lamp. After several months of "fixing" it by wiggling the lamp housing, I found that one wire was not crimped to the front signal lamp housing properly. This was fixed with a hot soldering iron. |
| | Original clutch, but probably needs a new one soon. :) |
| | Replaced front brake pads twice, rear pads once. |
| | At the 9th year, the engine started stalling occasionally in the wet Seattle spring weather. Other times, the engine would start rough but clear up shortly afterwards. After getting nowhere from consulting the service manual, I simply decided to run several tanks of premium gas in combination with fuel injector cleaner applications. This has since fixed the stalling problem. The chief suspect is fuel injector fouling from occasionally using discount gas. I'm now back to regular 87 gas from reputable suppliers such as Chevron or Texaco. |
| | Now the speedometer and odometer will sometimes not work when it gets wet outside. Probably a loose wire or defective pickup in the tranny case. |
News
After years of faithful service, I have decided to give up the 240. I have bought a Subaru Impreza Outback Sport AWD. The Impreza will be much more practical in the New England winters than the 240, which is a much better West Coast car. Never fear, the 240 will be seeing service (and be able to stretch its legs) as a commuter car on the infamous 401 and 407 highways in Toronto.